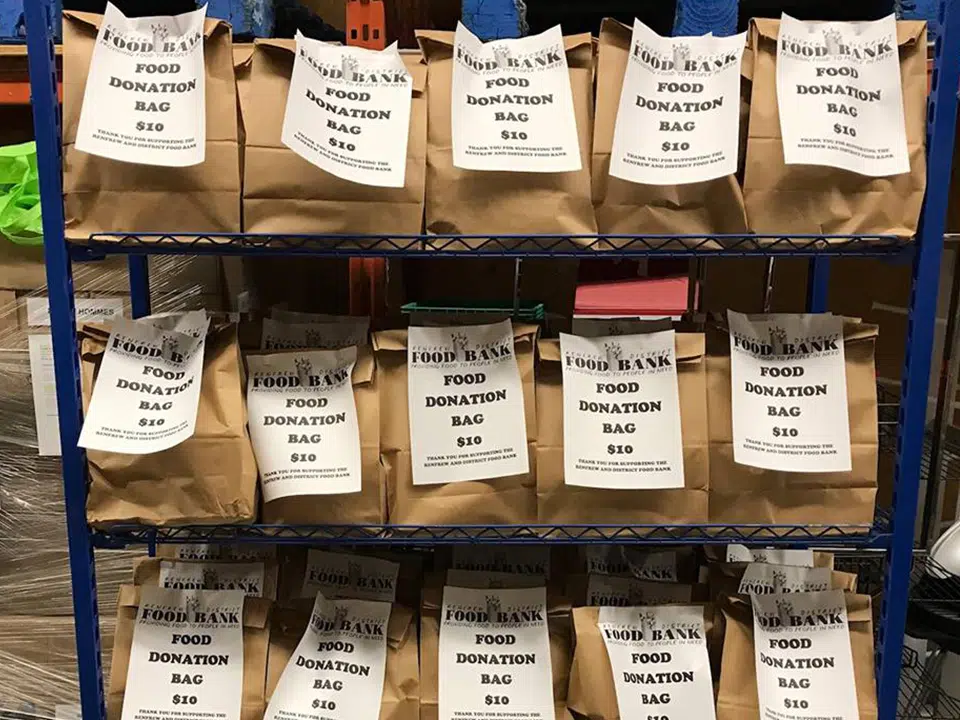 Food Donations
The following items are always in demand:
•Canned Beans  •Canned Meats  •Canned pasta
•Canned Tomatoes •Canned Vegetables •Cereal
•Cookies  •Coffee and Tea •Crackers
•Fruit Juices  •Dry Pasta •Pasta Sauce
•Peanut Butter •Rice  •Seasonal Produce
•Shampoo  •Soap  •Toilet Tissue  •Toothpaste 
Drop off locations are:
Renfrew Fire Hall

Sterlings No Frills

myFM Radio

Many local churches

www.canadahelps.org

, search for Renfrew and District Food Bank to make a secure online donation
Thank you!
The Renfrew and District Food Bank provides food to people in need.
Our goals are to help alleviate poverty by providing adequate emergency food supplies to all our clients and being an integral part of our local community.
Donations of food are gratefully accepted and literally keep the shelves stocked.
While food donations are important, financial donations provide the Food Bank with flexible buying power to stock the shelves with key items that are not typically donated.
We are located at the rear of the Renfrew Armouries in the Renfrew Fairgrounds.
The Food Bank is open the last three Tuesdays of each month.
1st Tuesday from 9 am until noon
2nd Tuesday from noon to 3 pm
3rd Tuesday from 3pm to 6 pm
If you have an idea on how you or your group could support the Food Bank, please let us know!
For more information about the Renfrew and District Food Bank, we can be contacted at:
Phone:  613-433-9216
Email:  renfrewfoodbank@nrtco.net
Facebook:  Renfrew and Area Food Bank
Download Our Brochure:  Click Here
Renfrew & District Food Bank December 2018 Schedule
Tuesday, December 18th: 9 a.m. to 3 p.m.
Wednesday, December 19th: 12 p.m. to 6 p.m.